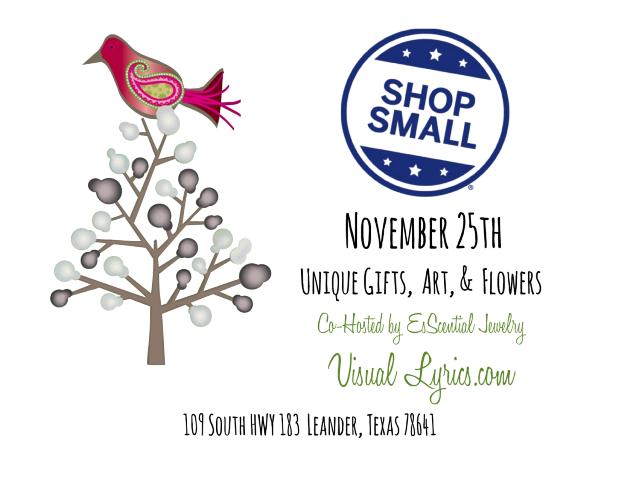 Join us on November 25th 2017 for Shop Small Saturday!
Starting 12 noon going to 5pm
We will be inviting many local vendors in the Leander area to our store on November 25th. Vendors will be set up around our shop selling their wonderful products. Support your local community and come shop small!
A variety of artisans and craftsman will be joining us from Jewelry makers and Leather workers, to Coffee and tastey Sweets. We will have live music through out the day. We hope you will enjoy your shopping experience, and thank you for shopping local.
Vendors currently attending:
Patti Wright with beYOUtful Sweets
Jessica Monnich with
Angel Guzman with Henna by Angel
Matthew Fierro with
Josh Greasy with
Anna McDonald with Silk Roots & CO.
Kristen and Kennedy Quinn with Kennedy's Heart Felt Promise
Francine Tucker and Tricia Kernan with esScentialJewelry
Music will be provided by Daniel Monnich
Photography by Jessica DeVos at
Stained Glass by Christopher Spady
Holiday Decor by Annie Dunn
Smooth Hair & Wax Studio
Pattie Tim Jannarone with
Second Wind Creations
Fine Art Jewelry
Jenni Carrol
We will have a photo-booth for family pictures, crafts for the kids and so much more!